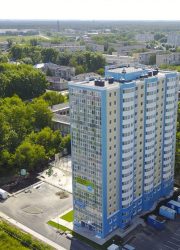 12.09.2017
The next project is in life! Residential house on the 9/1 Odoyevsky str. is completed!
Paper drawings have become objects of matter, for which real heat and water follow consumers. It took us almost eight months to create from the absolute zero – the heating system, water supply and sewerage. Contrary to the weather, unexpected power outages and related contracting organizations – the work was completed on time.
Thank you from the heart of the manufacturer of the works of Anatoly Areshchenkov!
We wish the champagne in glasses all involved in the construction of this building in the correct axes and correct marks, good health to modest fitting heroes, who laid the kilometers of steel pipes and manually lifted heavy steel convectors to the 17th floor, despite the absence of a genius of the contractor of lifting mechanisms.
But, in the end, the house was delivered, and this is another step that our company CМС stepped over.
We are going to future!
← Back to News