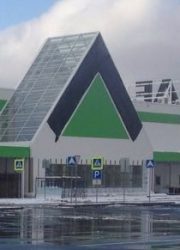 10.10.2016
Leroy Merlin Shopping Center
Friends, this is the first news posted on our company website.
It is dedicated to the events that are important for us and for our partners.
Leroy Merlin Shopping Center for Igarka street – finished!
This is just one of hundreds of projects built by us.
We thank you for your work: the manufacturer works on the project Valov Pavel Ivanovich, Areschenkov Anatoly Vasilivich and all our colleagues who participated in the realization of this ambitious project!
← Back to News